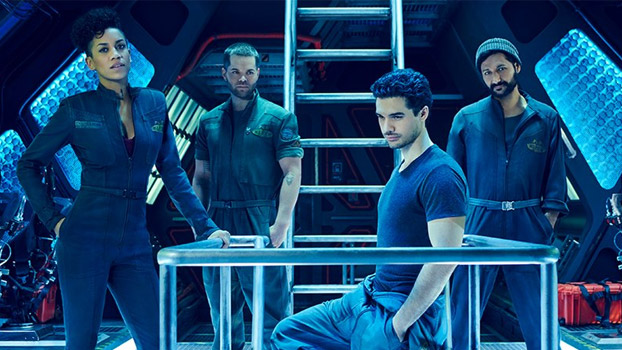 inFuga.ro team is watching the new TV Series The Expanse and we can say that after 8 episodes this space opera is very catchy – good actors, special effects and interesting space ship well created. If your expectations aren't too high, and it's not "Battlestar Galactica" yet, The Expanse could just be what you're looking for for now.
The Expanse is an American mystery science fiction drama television series on Syfy, based on the series of novels by James S. A. Corey. Set in a future where humanity has colonized the Solar System, it follows United Nations under secretary Chrisjen Avasarala (Shohreh Aghdashloo), police detective Miller (Thomas Jane), and ship's officer Jim Holden (Steven Strait) and his crew as they unravel a conspiracy that threatens peace across the System and the survival of humanity. The series premiered on demand on November 23, 2015, and on Syfy on December 14, 2015.
Short plot: Two hundred years in the future, in a fully colonized Solar System, police detective Josephus Miller (Thomas Jane), born in the asteroid belt, is given the assignment to find a missing young woman, Julie Mao (Florence Faivre). Meanwhile, James Holden (Steven Strait), the Executive Officer of the ice freighter Canterbury, is involved in a tragic incident that threatens to destabilize Earth, Mars and the Belt. Far away from their struggles in space, Chrisjen Avasarala (Shohreh Aghdashloo), a United Nations executive, works to prevent war between Earth and Mars by any means necessary. Soon, the three find out that the missing woman and the ice freighter's fate are part of a vast conspiracy that threatens all humanity.
Release Date: (2015 – )
Genre: Space opera, Mystery, Science fiction
Credits:
Developed by Mark Fergus, Hawk Ostby
Starring: Thomas Jane, Steven Strait, Cas Anvar, Dominique Tipper, Wes Chatham, Paulo Costanzo, Florence Faivre, Shawn Doyle, Shohreh Aghdashloo
Enjoy the new tv series trailer and rate it below!