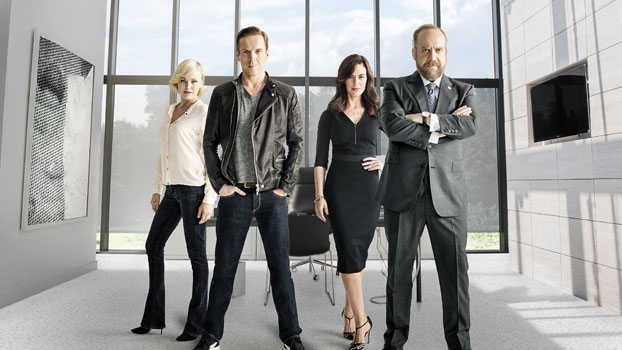 The new SHOWTIME drama series BILLIONS will premiere Sunday, January 17th at 10 PM ET/PT on-air, On Demand and over the internet. Starring Oscar nominee and Emmy and Golden Globe winner Paul Giamatti (John Adams) and Emmy and Golden Globe winner Damian Lewis (Homeland), BILLIONS is a 21st-century examination of the profit and peril of chasing the American dream. BILLIONS is written and executive produced by Brian Koppelman and David Levien (Ocean's Thirteen, Rounders), and Andrew Ross Sorkin (Too Big To Fail).
Billions is a bold, contemporary drama that melds the worlds of ultra-wealth, influence and corruption as personified in two highly ambitious opposing figures: hard-charging, blue-blooded, politically connected U.S. Attorney Chuck Rhoades (Giamatti) and brilliant, calculating, blue-collar billionaire hedge fund king, Bobby "Axe" Axelrod (Lewis). Set amongst the Machiavellian machinations of New York City power politics and finance, BILLIONS weaves a complex, intricate narrative featuring a high-stakes game of predator-versus-prey. Maggie Siff, Malin Akerman, Toby Leonard Moore, David Costabile and Condola Rashad also star. The pilot was directed by acclaimed director Neil Burger (The Illusionist, Divergent), who also serves as an executive producer.
Release Date: (2016 – )
Genre: Drama
Credits:
Creators: Brian Koppelman, David Levien, Andrew Ross Sorkin
Stars: Paul Giamatti, Damian Lewis, Maggie Siff
Enjoy the new tv series trailer and rate it below!