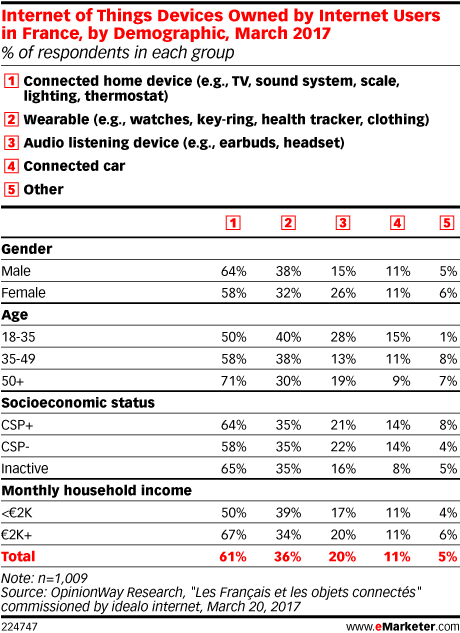 In a March 2017 the survey from OpinionWay Research discovers that nearly two-thirds of male internet users (64%) own a connected home device—such as a TV, sound system or thermostat. While fewer women owned such objects, a majority (58%) still did.
More men (38%) reported they owned wearable devices, like watches, key rings, health trackers and clothing. But women were close behind, at 32%.
Internet users' ages also brought disparity in IoT ownership, with older people (who presumably have more disposable income) more likely to have connected home devices. More than seven in 10 respondents ages 50 and older said they owned one, compared with half of 18- to 35-year-olds. For wearables, however, 30% of those 50 and older and 40% of those 18 to 35 were owners.
Monthly household income also played a role in ownership of IoT devices. About two-thirds of internet users whose income was €2,000 ($2,213) or higher owned connected home devices, vs. half of those who earned less.
*The Internet of things (IoT) is the inter-networking of physical devices, vehicles (also referred to as "connected devices" and "smart devices"), buildings, and other items – embedded with electronics, software, sensors, actuators, and network connectivity that enable these objects to collect and exchange data.
(Source: eMarketer, Wikipedia)