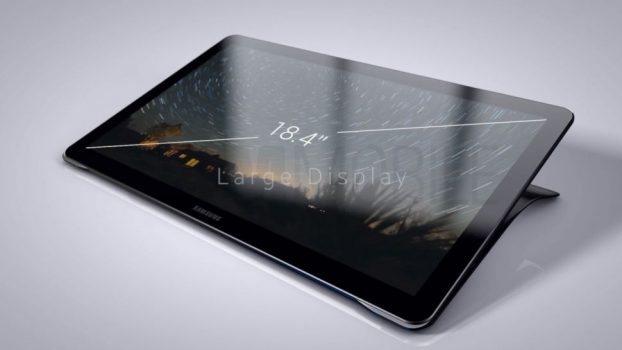 Samsung's massive tablet, the Galaxy View, has been rumored several times in the past, but now SamMobile has shared the first clear images of the rumored device. The obvious market for the Galaxy View is education and business, as most consumers likely have no need for such a large device.
Since the Galaxy View is expected to feature a 18.4-inch display, it'll be incredibly hard to hold for extended periods of time. Samsung appears to have realized that and has built a dock into the device itself. The dock appears to pop out from the back of the Galaxy View, allowing for it to be propped up on a desk or lap.
The images also show a front facing camera, something that, while expected, wasn't listed in earlier leaked specs. Speaking of specs, the device is expected to feature a Samsung octa-core processor with 2GB of RAM and 32GB of storage, 2.65 kg or 5.8 pounds, although larger variants may be available too. The screen is expected to feature a 1920 x 1080 resolution, while the battery will come in at 5700mAh. Galaxy View will cost $599 when it arrives on November 6, 2015.
Samsung is also working closely with cable TV providers and streaming companies to offer deals to customers. So if you use Time Warner Cable, Dish, or some other cable provider, you can link the View up with that and get live TV on your tablet when you're away from your TV.
As with any odd device, there are downsides to Samsung's Galaxy View. Obviously, it's too big to realistically carry with you. Will soon know if this Samsung product will become popular or not.