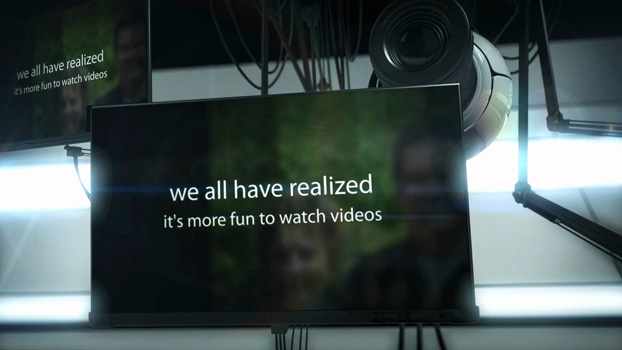 The market research firm Millward Brown conducted a study on how people across various demographics respond to video ads. For this study, there were interviewed 13,500 multiscreen consumers aged 16-45 in 42 countries. Within this sample, there were compared responses among 16-24-year olds (the mobile-first generation), 25-34s (the desktop-first generation), and 35-45s (most of whom can still remember a time before computers became omnipresent). This analysis showed that, globally, younger groups – the 16-24s – have a much higher consumption of video on digital screens, averaging 94 minutes on smartphones and laptops each day, compared to 62 minutes for 35-45s (an age gap of 32 minutes).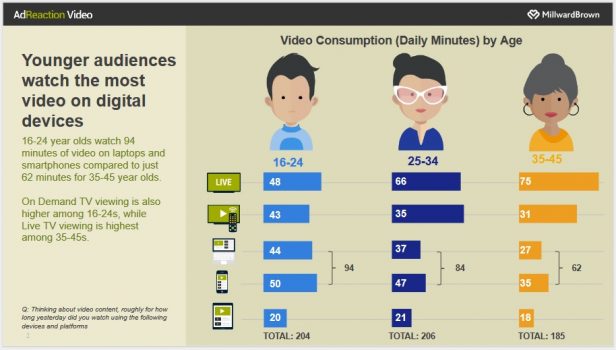 There are also some differences in how and where younger people watch video. For example, 16-24s are more likely to watch video in other people's houses (18% vs. 11% among 35-45s) and less likely to watch video at work (11% vs 21%). Of course, this particular behavior is less likely to predict the future since it mainly reflects their stage of life.
Globally, receptivity to video ads is very slightly higher among 25-34s than it is among both 16-24s and those over 35. This holds true for video ads on TV, laptop, and smartphones, so perhaps younger people are a little more idealistic and think content should be free, while older people are a little more jaded and ad resistant. However, this trend does not hold true in all markets. In the US, for instance, receptivity to video ads is actually slightly lower among 25-34s.
What is universally true is that all consumers much prefer rewards-based video ad formats and skippable video ads. They detest non-skippable video ad formats.
We do see clear generational differences when we look beyond paid advertising and examine attitudes to branded content. This is supposed to be a panacea for brands looking to engage younger consumers with interesting information and entertainment, so common wisdom would suggest these kinds of marketing approaches would be most popular among 16-24s.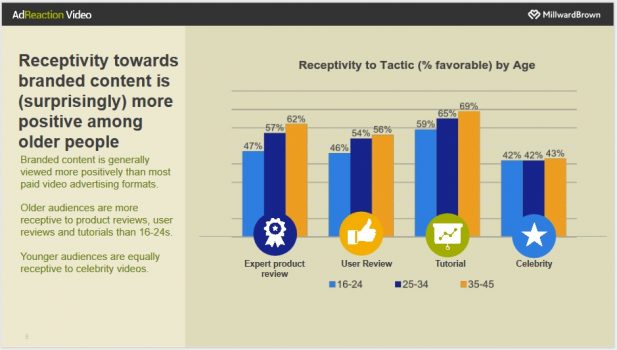 The reality is that this group is far less receptive to all forms of branded content than 35-45s, including the tutorials and reviews they are supposed to love. The gap in favorability rises to 15 percentage points for expert review videos, but younger consumers are also less keen on website videos, user reviews, and tutorials (gap of 10 points for each) and shopping videos (gap of nine points).
(Source: VentureBeat, Millward Brown)