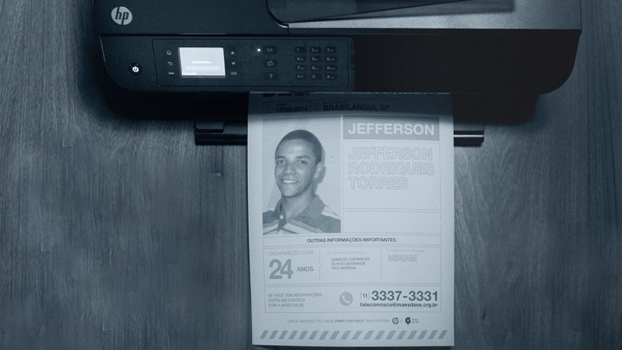 In Brazil, about 200,000 people go missing every year and posters are still the best way to help. HP's ePrint is a mobile printing technology that allows anyone to print from anywhere. All it takes is to send an email to the printer. Print for Help is a helping social network. To become a member, the users just need to register the HP printer's email and zip code. This allows the Mães da Sé NGO to send them the posters whenever someone goes missing. The system matches the printers zip codes with location where the person went missing. They start printing the posters automatically. Join the project!
Credits:
Advertising Agency: FCB, Sao Paulo, Brazil
Art Director: Tiago Freitas, Bruno Bueno
Copywriter: Vinicius Dalvi
Vp Creative Director: Joanna Monteiro, Max Geraldo
Digital Creative Director: Pedro Gravena
Creative Technologist: Marcio Bueno
Project Manager: Lia D'Amico, Felipe Brentan
Account: Mauro Silveira, Alec Cocchiaro, Diogo Braga, Henrique Silva, Stefano Pieroni, Marina Vilar
Media: Alexandre Ugadin, Cristina Omura, Rafael Amaral
Planner: Raphael Barreto, Cesar Fuster, Bruno Cantarim
Enjoy the video and rate it below!