People come to Facebook to discover, watch and share videos they care about. We've seen all kinds of video publishers — across entertainment, news, sports and more — find success reaching the right audience with video on Facebook.
Here are a few tips highlighting how video publishers can make the most of the video tools available to Pages.
1) Schedule videos to automate your content calendar
Whether you're planning an exclusive release or preparing for an under-staffed weekend, scheduling videos for your Page can help you organize and automate your content calendar on Facebook.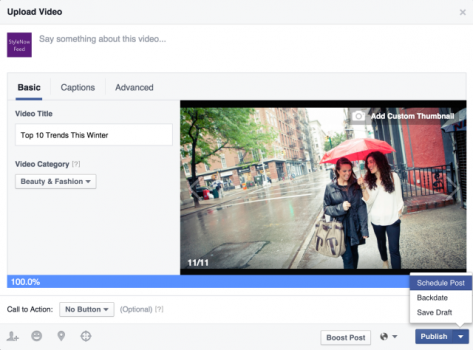 To schedule a video, when you upload it, click the arrow next to "Publish" and choose "Schedule Post" from the dropdown menu. On the next screen, you can select the date and time that you'd like your video to go live.
2) Set expiration dates for videos
You can also set an expiration date for your video. When a video expires it is automatically unpublished, which means it will no longer be visible on your Page or anywhere else it was shared on Facebook, though Page owners will retain access to the video's insights. This feature is especially useful for videos with licensing restrictions.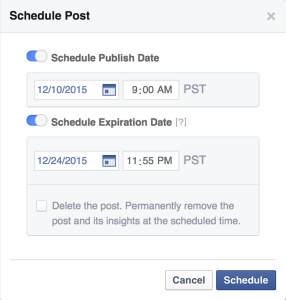 To set an expiration date for your video, follow the directions for scheduling your video. On the next screen, you'll have the option select the date and time you'd like your video to expire.
3) Add captions to tell your story with and without sound
Since videos on Facebook autoplay in News Feed with sound off, it's important to think about how to tell your story without sound. In some cases, we've seen publishers provide text overlays and banners to keep viewers engaged even with muted audio, while others have experimented by narrating data points and statistics with moving graphics and images. Another option is to add captions to your video so that viewers can easily follow along when watching your video — this can even be helpful with sound on.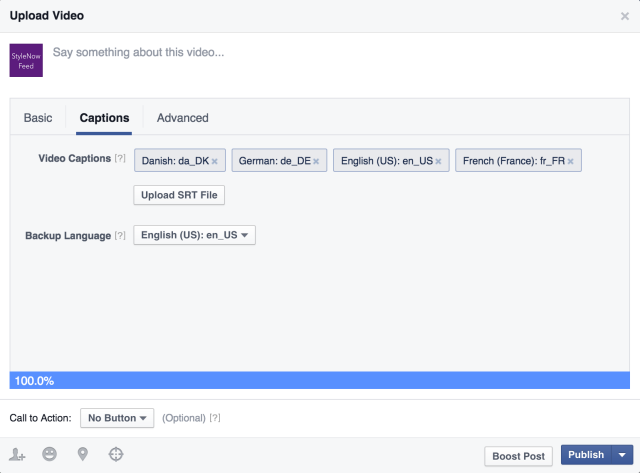 Captions are added as .SRT files to your video during the upload or edit process. On the web, people who watch your video can click "CC" on the bottom right-hand side of the video to enable captions. On mobile devices, captions display automatically when a viewer has volume muted. Learn more about captions in the Help Center.
4) Edit and manage all your videos with your Video Library
The Video Library is a place where you can organize and manage your videos. You can access your Video Library by visiting the Publishing Tools tab within your Page.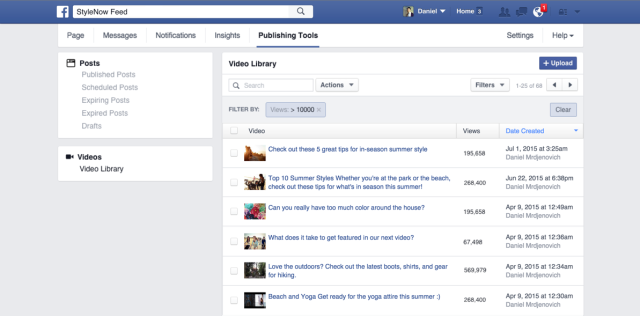 Use the search and filtering tools to locate a specific video by title, description and more. You can also edit or change any details related to your videos, including adding captions in other languages, changing a custom thumbnail and more.
5) Embed your videos elsewhere
Facebook's embedded video player allows publishers to display videos from Facebook on their own sites. If you're planning an announcement or special moment around your video, it's a good idea to share your video's embed code with press, partners and others.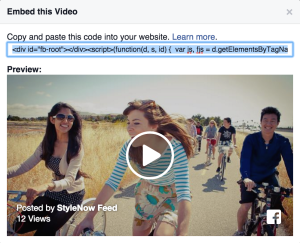 To access the embed code, visit your Page's Timeline and click the dropdown arrow next to your video. Click "Embed Video" to copy and paste the embed code.
6) Utilize secret videos
Secret videos give you the ability to upload videos that are accessible only via a direct URL — they are not visible or searchable on Facebook. With secret videos, only people who have the video URL can see the content. Secret videos are useful if you want to host videos on Facebook and embed them on your own sites, without posting them anywhere else on Facebook.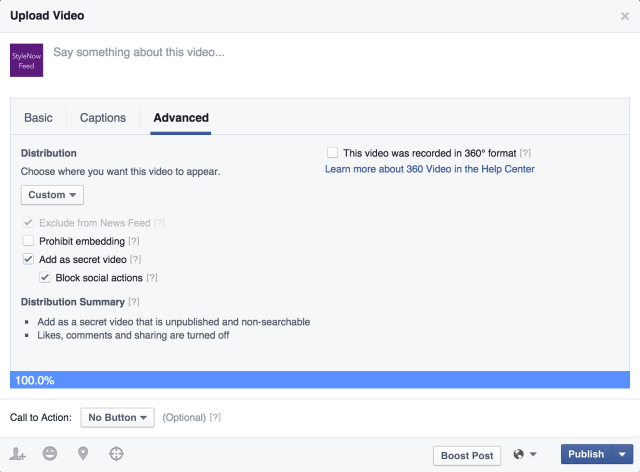 To add a secret video, follow the same upload process as you would for any other video. Click the "Advanced" tab, select "Custom" distribution, and check "Add as Secret Video." You can access the URL for your secret video on the following screen.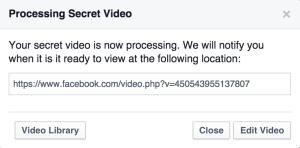 7) Manage video distribution settings with your Video Library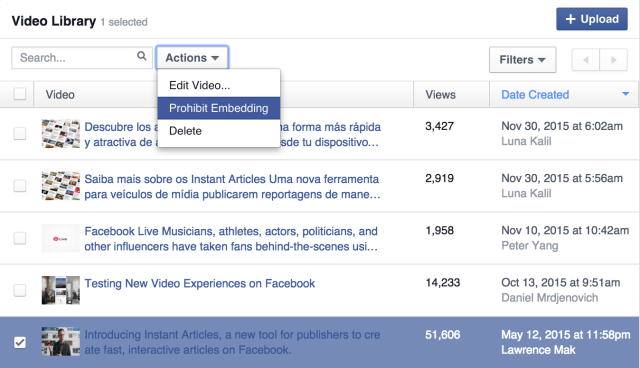 You can easily manage the distribution settings for your videos in your Video Library. Options include:
Prohibit third-party embeds: This setting restricts your video from being embedded outside Facebook.
Publish to News Feed: Take a video from your Page's Videos tab and publish it into News Feed.
View and manage secret videos: Secret videos don't appear on your Page timeline, but you can find, see and manage them in your Video Library.
8) Explore your "Top Videos"
Use the "Top Videos" section to see your best performing content across any given date range. Click on a video to see deeper performance metrics, such as audience retention and engagement.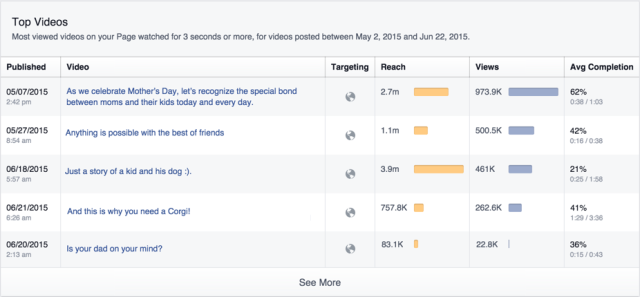 You can access "Top Videos" by visiting the Videos tab in Page Insights.
9) Monitor your retention graph
The retention curve helps you understand where in the video your audience drops off. It's normal to see some audience drop off at the very beginning, as people scroll through their News Feed. However, if you see a point in your video with significant drop-off, take a look at the content to understand which part of the video may not be as engaging to viewers.
10) Track engagement metrics
Engagement with your video (likes, comments, and shares) provides an additional signal about audience sentiment and reception. Track these metrics to better understand what type of content encourages people to take action on your videos.