Tuesday, Microsoft announced the launch of the Bing Network, marking the end of the Yahoo Bing Network.
Despite the fact that Bing Ads continues to serve ads on a sizable percentage of Yahoo search results, Stephen Sirich, GM of Bing Ads, mentioned Yahoo just once in his blog post announcing the Bing Network — and it substantively pertained to account management: "With the transition of all U.S. accounts (and with them, people and account management) from Yahoo to Bing, the Bing Network also represents an expanded network of partners, including AOL, Wall Street Journal and more, adding more searches and clicks to the network every day."
Bing has also been rebranding with a new teal logo introduced last month.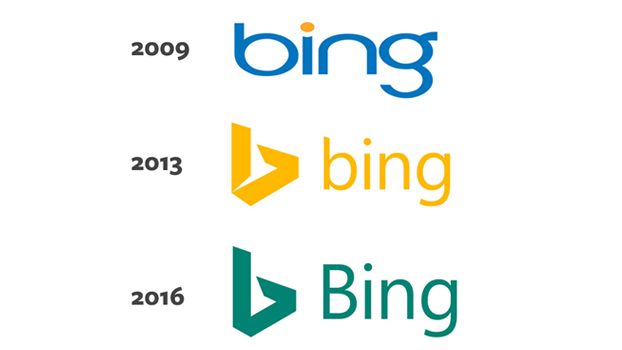 What's so unique about Bing Network?
More reach when it matters most
Bing is in places you never expected and allows you to reach unique audiences where, when and how they want to be reached. In fact, did you know that the Bing Network includes 60 million searchers that can only be found here? A quarter of our clicks come from searches that are exclusive to the Bing Network, and that includes unique searches versus Google. That's exclusivity that can't be beat.
With the momentum of Windows 10, and the growth of our syndication business – including partners like AOL, GumTree, Wall Street Journal and Infospace – we're adding more searches and clicks to our network; our syndication business continues to deliver high quality volume (over four to five times) compared to just a year ago.
Making connections that are more relevant
When it comes to innovating, our customers are key in helping drive our product development. As both a service and platform, we know that advertisers don't have one-size-fits-all programs. That means building products that make your job easier.
Based on your feedback, we've built campaign management tools, like the Bing Ads iOS and Android apps, and a soon-to-be-introduced Bing Ads Editor for Mac. We've created Bing Shopping and Automated Rules to make it easier to buy on our platform. And, with your input, established the foundation for Remarketing (Audience Buying) that you and much of the industry have been asking for.
A powerful, intelligent platform
As a company, our unique ability to power the operating systems we use every day – from PCs, tablets and phones to consoles, cars and the Internet of Things – gives us the opportunity to put Bing truly everywhere.
You can see Bing's intelligence powering some of Microsoft's most exciting innovations, from Cortana to voice search in Xbox One, and from the search experiences in Windows 10 (which is already on more than 200 million devices) to searching directly in Office.
But Bing isn't limited to Microsoft. Industry leaders trust their most valuable assets — their users — to Bing. Whether it's search inside of Amazon's devices, web results for Siri and Spotlight Search on Apple devices, or maps on thousands of leading websites, Bing's technology is increasingly being adopted across the industry.
Be there.
Simply put, Bing Network is where you want to be when consumers are making decisions.
How Bing Ads helps?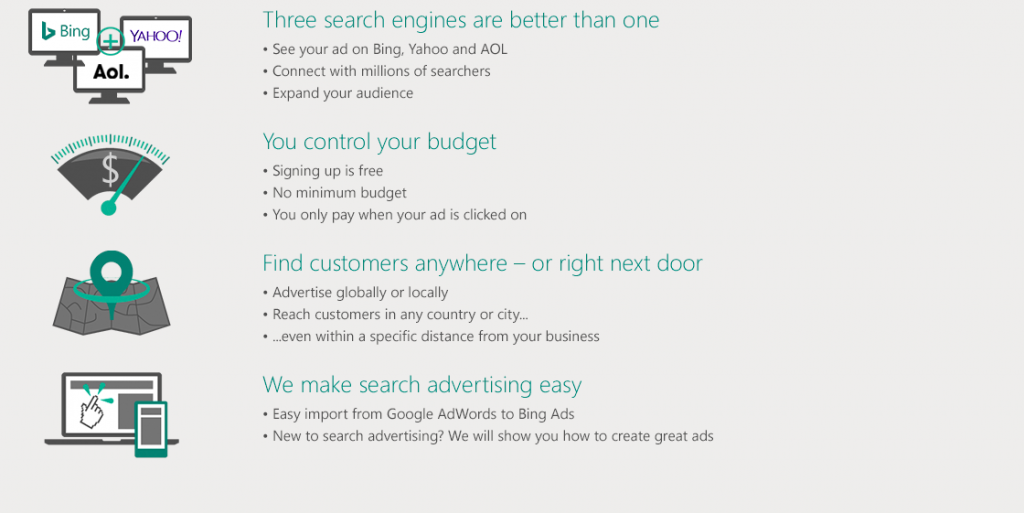 What is Bing Ads?

Here's how it works:
People search online for a product or service
They enter search terms (called keywords) into search engines like Bing.
They find your ad
If the keywords in your ad match a search, your ad appears next to or above search results on Bing.
Customers reach out to you
You can configure your ad so people can call you, visit your website, or go right to your door.