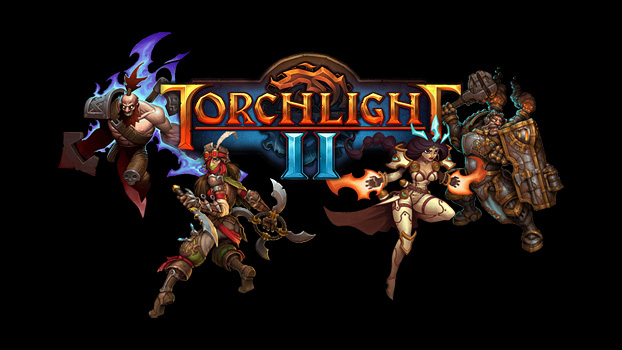 Torchlight 2 is an award-winning action RPG! We have finished this "old" game but we love it!
Torchlight 2 takes you back into the quirky, fast-paced world of bloodthirsty monsters, bountiful treasures, and sinister secrets – and, once again, the fate of the world is in your hands! Four new classes, up to 6-player co-op via Internet or LAN, a rich overworld and brooding dungeons. Available as a digital download on September 20, 2012 from Steam, Runic Games, Perfect World, GamersGate, GameFly, and GameStop.
Classes:
Engineer: The Engineer (formerly known as the Railman) is a heavy melee fighter who uses ember-powered steampunk technology. Skill Trees: Blitz, Construction, Aegis.
Outlander: The Outlander is a wandering nomad who uses ranged weapons and "low magic". Skill Trees: Warfare, Lore, Sigil.
Berserker: The Berserker uses quick attacks and animal-themed special powers. Skill Trees: Hunter, Tundra, Shadow.
Embermage: The Embermage is a highly trained spell-casting class with elemental attacks. Skill Trees: Inferno, Frost, Storm.
Credits:
Developer: Runic Games
Publisher: Runic Games
Distributor: Valve Corporation, Perfect World, Runic Games
Designer: Travis Baldree
Composer: Matt Uelmen
Series: Torchlight
Engine: OGRE
Platform(s): Microsoft Windows, OS X, Linux
Release date(s): Microsoft Windows – September 20, 2012; OSX – February 2, 2015; Linux – March 4, 2015
Genre(s): Action role-playing, hack and slash
Mode(s): Single-player, Multiplayer
Enjoy the game trailer and rate it below!
(Source: Wikipedia)